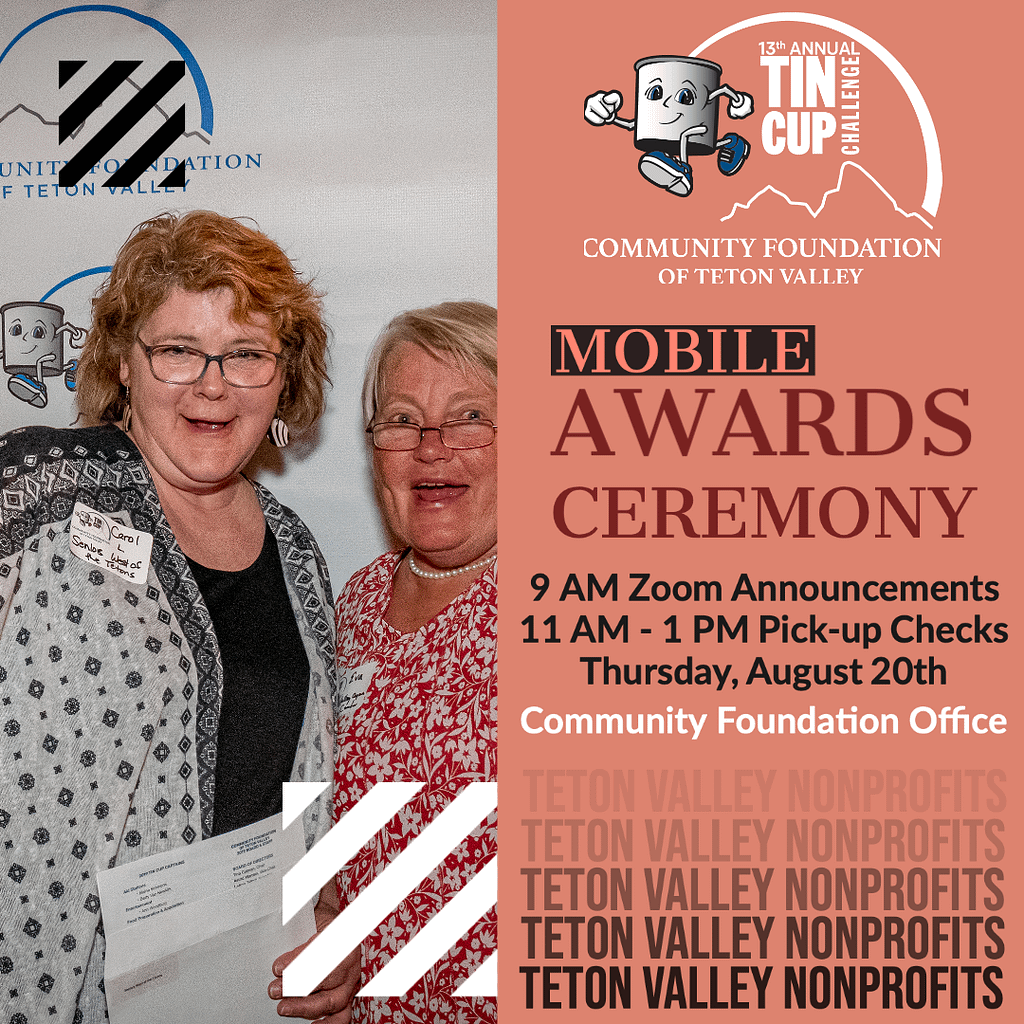 It is with heavy hearts that the Community Foundation of Teton Valley has revised this year's annual Tin Cup Challenge Awards Ceremony. In light of local COVID-19 guidelines and restrictions, the Community Foundation of Teton Valley has resolved to modify our Tin Cup Awards Ceremony to ensure the health and safety of nonprofit staff and community members. At the same time, the Community Foundation is prioritizing the delivery of Tin Cup donations and Challenger Matching Grant checks as soon as possible.
To that end, the Community Foundation of Teton Valley will be having our first-ever Tin Cup Challenge Mobile Awards Ceremony. Each nonprofit is invited to drive, bicycle, or walk by and receive their check in front of the Community Foundation office on East Ashley. The Community Foundation will have our Tin Cup back-drop at the ready to gather photos of this year's unique ceremony. While the Foundation understands this offering will not have the same community feel of the traditional ceremony at the Wildwood Room that everyone has appreciated so much over the years, we hope it will still bring light to how important our nonprofits are to our community.
In place of the traditional slideshow prior to the check distribution, the Community Foundation will host an open Zoom call at 9 AM on Thursday, August 20th. We invite all nonprofits and Challengers to tune-in and hear about final fundraising totals and this year's Matching Grant percentage! Later, from 11 AM to 1 PM on the 20th, the Community Foundation is excited to welcome all participating nonprofits to visit our office and receive their Tin Cup check.
2020 marks the 13th Annual Tin Cup Challenge. While the 'Challenge' has always been appropriately named, this year it rang truer than ever. According to Executive Director, Tim Adams, "I have said from the start of having to alter our annual fundraising event that I have had no doubt that our community would rise to the occasion; that we would emerge a stronger and more unified community and body of nonprofits. Our community has exceeded my hopes by leaps and bounds."
The Community Foundation of Teton Valley thanks the entire community for your continued support in these most uncertain times.
___________________________________________
Register to attend the LIVE 2020 Tin Cup Challenge Announcements here:
___________________________________________