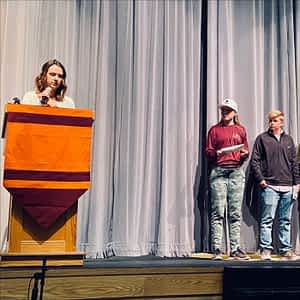 — announced at a Teton High School Assembly —
The Community Foundation of Teton Valley's Youth Philanthropy Program, in partnership with the Dual Enrollment Government class at Teton High School, announced this year's grant award winners today at an Awards Assembly at Teton High School.
Now in its 9th year, today's award ceremony marks the granting of $37,000 in total via this multifaceted program. Youth Philanthropy provides an excellent opportunity to introduce the concept of philanthropy to the next generation while helping them better understand the significant and impactful roles that nonprofits play in our own community.
According to one Senior, this program offers insight into "the many nonprofits in our valley and each one's goals. It's cool to learn more about what is going on and to be a part of helping some of those things come to pass. The program also illustrates how selfless people are where we live – because they love to help others, and many are volunteers for these nonprofits."
Not only does this program help develop a deeper understanding of the granting process, but students also get a firsthand look at the many roles that nonprofits play in our community and in meeting the needs of their fellow citizens.
The Youth Philanthropy Program is made possible through the generosity of Tin Cup Challengers and other private donors who partner with the Community Foundation of Teton Valley to elevate lives through the power of generosity.
This year's class worked through 13 grant applications with a total funding ask of $9,849. After a thorough discussion over three class periods, they awarded 5 projects full funding and 2 projects partial grant awards.

2019 Youth Philanthropy Awards