Tin Cup Challenge 2020
The Community Foundation is excited for the first week of the 13th Annual Tin Cup Challenge Giving Period! In addition to the Tin Cup brochure you received in your mailbox, keep your eyes peeled for brochures around the valley and available in Spanish. While we'll miss our traditional celebration in the Driggs City Park, we're excited to share new activities throughout the Giving Period and on Event Day, Saturday, July 18th. Stay tuned!
___________________________________________
Visit us at the Driggs Farmers Market
Stop by our Farmer's Market booth anytime from 9 AM – 1 PM on Fridays for the duration of the Giving Period to drop off your donation and pick up a 2020 Tin Cup Challenge FandanaTM to sport your support!
___________________________________________
2019 Annual Report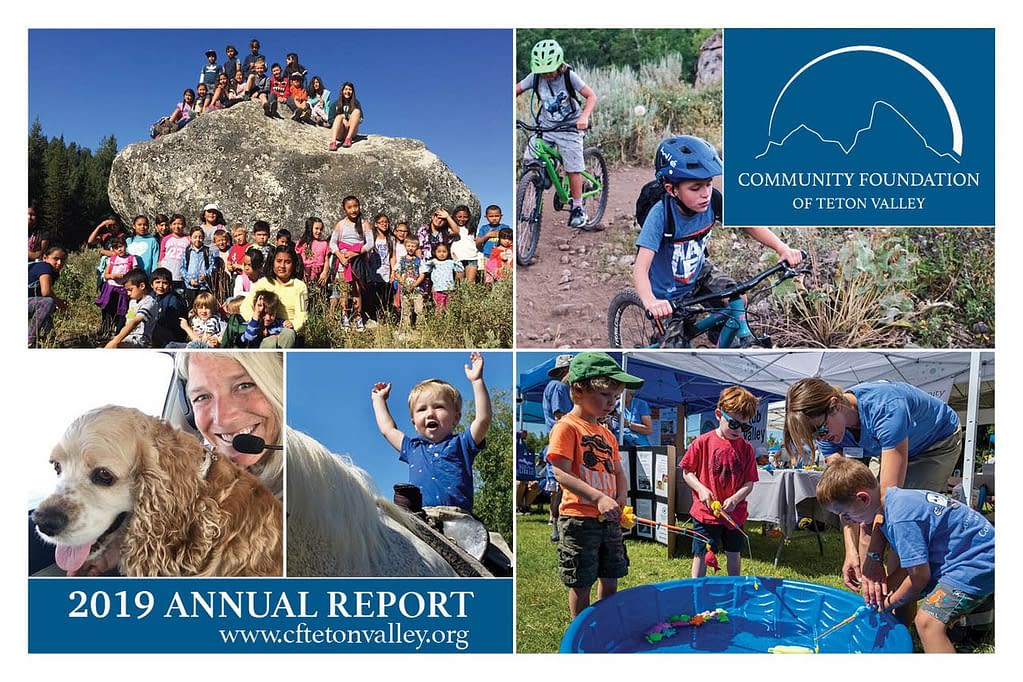 ___________________________________________
2019 A Year in Review
The Community Foundation of Teton Valley is pleased to share our accomplishments in 2019 through the Annual Report above and the infographic below. With the help of Business & Community Challengers, Donors, In-Kind Donors, and volunteers, we were able to provide the following programming to benefit lives in Teton Valley:
___________________________________________
Nonprofit Update
For Teton Valley nonprofits, the 13th Annual Tin Cup Challenge marks a bright spot in the grey unknown of today's future. With many mainstay fund and friend-raisers being canceled in the coming weeks and months, in order to keep our community safe, nonprofits are working double-time to reassess their programming, fundraising, and overall strategies to ensure they're here to help the community for the long haul.
While nonprofits reimagine how they can get their important services to the community and adapt as things change, they are also pinning a lot of metrics on this year's Tin Cup Challenge. This unique program offers some sense of security in a time of complete uncertainty. While no one knows what giving will look like in light of the pandemic, the Community Foundation of Teton Valley is committed to driving participation in giving during the Tin Cup Challenge and recognizing the hard work local nonprofits put in year-round to ensure that lives are elevated in Teton Valley consistently.
___________________________________________
Virtual Pocket Talk: Effective Communication in Disruptive Times
Thursday, June 11, Noon – 1 PM
Our presenter, Ray Thompson,  is one of the principal owners of WPNT Communications, a specialty communications training and consulting firm, and has achieved Malcolm Gladwell's "10,000-Hour Rule" of mastery in the field of on-camera executive speech coaching and communications training.  WPNT is partnering with the Community Foundation of Teton Valley to offer a Virtual Pocket Talk for nonprofit leaders on stakeholder communications. Ray will present a free, one-hour facilitated discussion that will provide attendees with key principles of effective communications in the midst of a crisis. Additionally, he'll share worksheets to help you identify, prioritize, and analyze your key audiences and develop audience-centered messages. This is an awesome opportunity.  RSVP here!
___________________________________________
Board of Directors
Ben Reese recently took over the position of Treasurer and head of the Finance Committee from Gene Marcowka, for whose financial wherewithal and service the Community Foundation is incredibly grateful. Astrid Warden continues to steer the helm of the Community Foundation as Board Chair, with Gene Marcowka serving as Vice-Chair, and LeAnn Talbot holding the position of Secretary. All of our board members are working tirelessly to raise funds for this year's Challenger Fund from both Business and Community Challengers, whose contributions are what makes the Tin Cup so successful. The Community Foundation of Teton Valley greatly appreciates Challenger's unwavering generosity.
Randy Blough
Randy moved west from his hometown in Western Pennsylvania in 1989. After a decade on the Front Range of Colorado and another four years in Salt Lake City, he finally settled in Teton Valley in 2003. With a degree in Landscape Architecture and years of experience working for Civil Engineering firms, he merged with his soon to be wife, Jennifer Zung in 2005 to form Harmony Design and Engineering located in Driggs. Randy, Jennifer, and their 7-year-old son Dalton live In Alta along the Nordic ski trail where Randy and Dalton are seen frequently grooming the trail as volunteers for Teton Valley Trails and Pathways. Randy enjoys skiing, mountain biking, rafting, and most all other things that Teton Valley has to offer and is psyched to be able to give back to the community through volunteerism and service to our valley's nonprofits.
Randy has been a long time In-kind Donor for the Community Foundation, annually reworking our Event Day map while carefully planning to accommodate everyone. He's also been responsible for updating our race routes. We're thrilled to have him on board as a Business Challenger, board member, and all-star volunteer.
 Natalie Volcko
Natalie first landed in Teton Valley in 2005, fresh from the small island community of Martha's Vineyard. Even though it snowed that Labor Day weekend she knew immediately that she wanted to stay. The warm and friendly community drew her in and the amazing public land access made her feel right at home. She appreciates the physical beauty of the valley and enjoys the diversity of her friends and neighbors, whose craftsmanship, creativity, stewardship, and extreme physical achievements continue to impress her. When she's not helping her clients buy and sell real estate, Natalie can be found trying to keep up with her husband, Josh, and their blended family of four kids, whose early introduction to skiing, biking, hunting, boating, and climbing she admittedly envies (if you're lucky enough to grow up in Teton Valley, you're pretty darn lucky!)
Natalie has been a stalwart supporter of the Community Foundation as both a Business and Community Challenger. As a realtor for Jackson Hole Sotheby's, she's naturally community-driven and we're delighted that she's stepped up to be on the Donor Relations Committee.