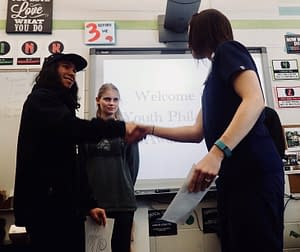 Saving Lives with CPR
The Community Foundation's Youth Philanthropy students awarded $500 to the Teton Valley Hospital Foundation towards new CPR equipment. Students recognized that Teton Valley Hospital is the only hospital serving Teton Valley and becomes the first line of defense for people with emergent healthcare needs. It's important that hospital staff be fully trained in CPR and the nuances of treating all ages.
As the hospital grant explained, it is crucial that hospital staff maintain the most current training in order to best serve our community.  When community members suffer a health event, they turn to the hospital to provide them with the best care possible.  Hospital providers take their responsibilities very seriously, especially since they are serving family, friends and neighbors.  The addition of a family of manikins, including adult, child and infant sizes, will make for realistic staff training. These manikins will provide real-time performance data to the trainees with indicators/feedback mechanisms to help them be assured that they are providing the correct rate, depth, and recoil as they administer CPR to their patient manikins.
Feeling confident when an emergency presents itself is essential. The hospital's goal is to save lives and they want to be prepared to give the best service humanly possible, quickly and accurately. Students recognized the need in updating the hospital's training manikins to real-time feedback devices in order to improve CPR training and response locally.