TCISAR Headlamps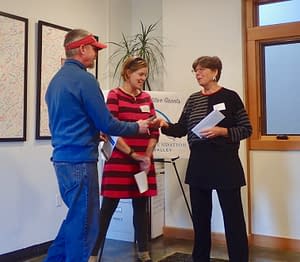 Through the 2017 Fall Competitive Grant cycle, Teton County Idaho Search and Rescue was the beneficiary of a $750 grant to supply headlamps to their members in good standing for future rescue missions.
TCISAR approved to provide personal protection equipment to its Members in Good Standing (MIGS) in the coming year. As an organization, they want to ensure that their trained rescue members are provided with 24hr Summer/Winter Backpacks ready with all essential items to be used in the backcountry for a 24hr mission.
It is not uncommon for MIGS to volunteer over 100 hours per year in trainings, missions, and community events. On top of their time and commitment to our community, rescue gear is very expensive. Many MIGS move TCISAR and personal gear from pack to pack to be mission ready. As an organization, TCISAR feels responsible to provide essentials for a 24hr mission to our members. This enables them to be more prepared for a mission and further purports their professionalism with all members having the same equipment for trainings.
To this goal, they have alreay purchased (30) First Aid Kits, (30) Goal Zero Flip 20 battery backups (for GPS based phone navigation), (15) compasses and (120) emergency blankets for our MIGS. With ongoing support they are in the process of purchasing (30) Osprey 24hr winter backpacks and (30) Osprey summer packs.
TCISAR currently has 22 MIGS and plans to recruit six more for a total of 30 active members in 2018. We gratefully appreciate the training and readiness of these many volunteers who are dedicated to providing prompt, professional emergency services for people who are lost, injured, stranded, or in need of rescue in Teton County Idaho.