With less than a month left in the Giving Period, it's important to note that there are two ways to give during the Tin Cup Challenge. Both ways of giving are integral to the success of this model. Giving designated gifts to nonprofits is the most direct way to support the organizations you love. In these dire times, your gift, of any amount, helps illustrate how much each organization and their mission mean to our community.
The other option is to support Teton Valley's collective of nonprofits through a donation to the Challenger Fund. These donations are pooled to cover a partial Matching Grant for the first $25,000 each Participating Nonprofit raises over the 8-week Giving Period. The Challenger Fund also supports nonprofits by funding the Community Foundation's Competitive Grant Program. This allows the Community Foundation to usher funds directly into the community through timely projects that meet current community needs annually. Youth Philanthropy serves the same role for nonprofits but facilitates an introduction into philanthropy, local organizations, and nonprofit services for graduating seniors at Teton High School. Additionally, the Challenger Fund supports Nonprofit Workshops, which help provide continuing education, inspiration, networking, collaboration, and best practices for local organizations.
The best thing about all Tin Cup dollars – they have to be spent within 18 months in Teton Valley! This means that your donation, either way you give, is immediately put to work in our community.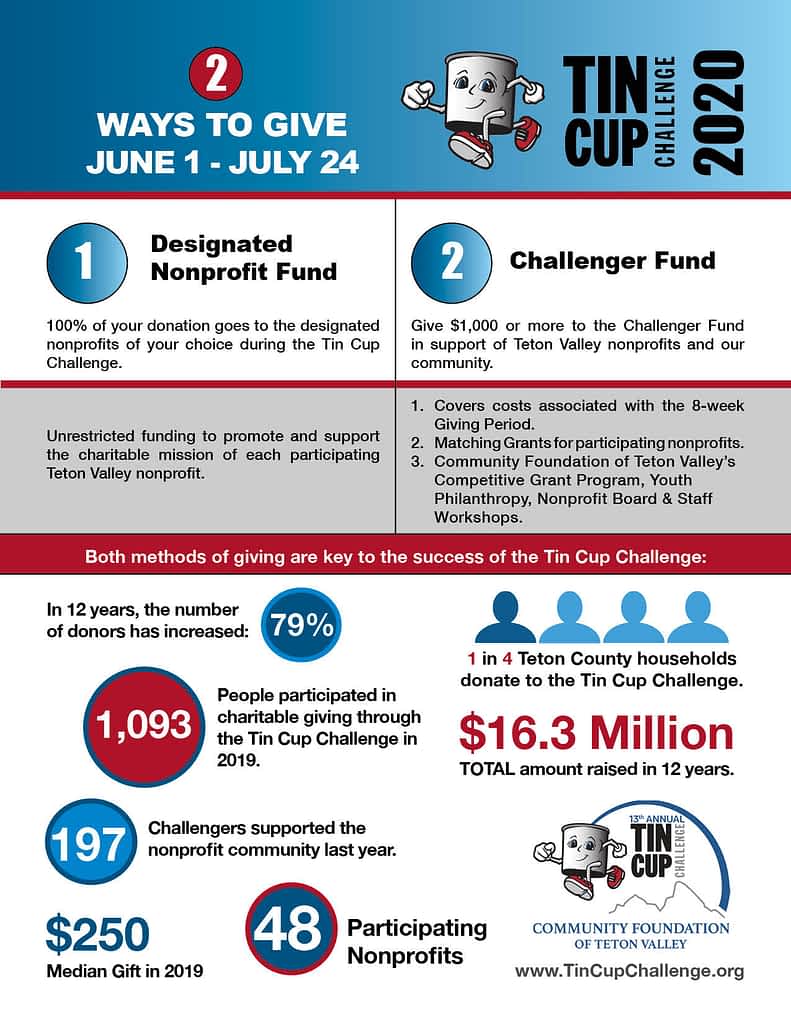 ___________________________________________
Donate at the Driggs Farmers Market
Stop by to drop off your donation, ask questions, and pick up this year's Tin Cup Fandana – perfect in any season as a neck warmer or headband, and readily doubling as a mask in these unprecedented times. Don your Tin Cup Fandana to show your support of local nonprofits. We'd love to see photos of them in action! Speaking of photos…