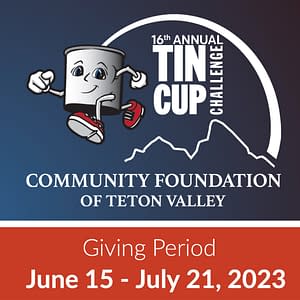 The Community Foundation of Teton Valley, a leading nonprofit organization dedicated to elevating lives through the power of generosity, is thrilled to announce the upcoming launch of our 6-week community-wide fundraiser, the Tin Cup Challenge. From 9 AM on Thursday, June 15, through Friday, July 21, at 5 PM, the Community Foundation of Teton Valley will accept donations benefitting participating local nonprofits. This ambitious initiative aims to rally the entire community together in support of the critical work, dedication, and impact of local organizations.
This year marks the 16th anniversary of the Tin Cup Challenge, and the first year the fundraiser has been condensed to six weeks. This event is an exhilarating and inclusive experience that encourages individuals, families, local businesses, and organizations to come together and contribute to the betterment of our community. By participating in this unique fundraising campaign, community members have the opportunity to demonstrate their generosity, compassion, and commitment to creating positive change.
According to Bonnie Self, Executive Director of the Community Foundation, "The Tin Cup Challenge is truly exceptional in that it helps leverage funds raised by local nonprofits with a Match Grant provided by Business & Community Challengers. This promotes a culture of generosity in our community and encourages everyone to give to their favorite nonprofits during the Giving Period."
The Tin Cup Challenge serves as both a 6-week Giving Period and a one-day celebration of our community's spirit of generosity on Saturday, July 15, from 9 AM to Noon in Driggs City Park. Always the third Saturday in July, Event Day is celebrated with a Competitive 5K, 10K, Fun Run/Walk, free breakfast, activities for all ages, and nonprofit information. In just 15 years, the Tin Cup Challenge has raised nearly $20.8 million for Teton Valley nonprofits. Last year, in an unmatched illustration of support for local organizations and their constituents, the community rallied to raise a total of $2.5 million in support of local nonprofits!
The Community Foundation would like to extend heartfelt gratitude to the Business & Community Challengers who have already committed their support to this remarkable program. Their generosity and dedication serve as a catalyst for inspiring others to participate by providing a partial match for funds raised by participating organizations. Donors interested in supporting their favorite nonprofits during the 16th Annual Tin Cup Challenge can do so with one transaction – donate by check, using the Donor Form included in the Tin Cup brochure, or online at www.TinCupChallenge.org. Brochures are available throughout Teton Valley and will be delivered to all households and box holders on June 15. No gift is too small to let organizations know you care about their important work. The Community Foundation of Teton Valley will process your gift, ensuring 100% of your contribution is given to the organizations you choose.
Find our booth at the Farmers Market from June 9 – July 21 to donate, pick up your T-shirt, and register to run. For more information, visit the Community Foundation's website at www.TinCupChallenge.org, call the Community Foundation office at 208.354.0230, or email info@cftetonvalley.org.