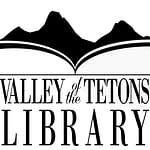 Website Valley of the Tetons Library
Valley of the Tetons Library is hiring a Library Director. A degree in library science is not required and we encourage experienced managers and leaders to read through the description. The Director serves as the official representative of the library and is supported by a dedicated Board and a strong team of librarians who are skilled at keeping the day to day operations of the library running. The Director is expected to provide a leadership role within the library, community and library profession.
The position is full time, year round at 32 – 35 hours per week and includes an excellent pension plan with a 12% employer contribution. It is an exciting time at the library as we grow with our community.
Join our team of beloved staff! View the full position description as well as additional open positions at valleyofthetetonslibrary.org/employment/. 
Word of mouth is currently one of the best avenues for filling job positions, please help spread the word. Do you know staff at other libraries? Do you have friends or family that love libraries and might be interested or know someone who could be? We thank you!