February 28, 2024
@
11:00 am
–
1:00 pm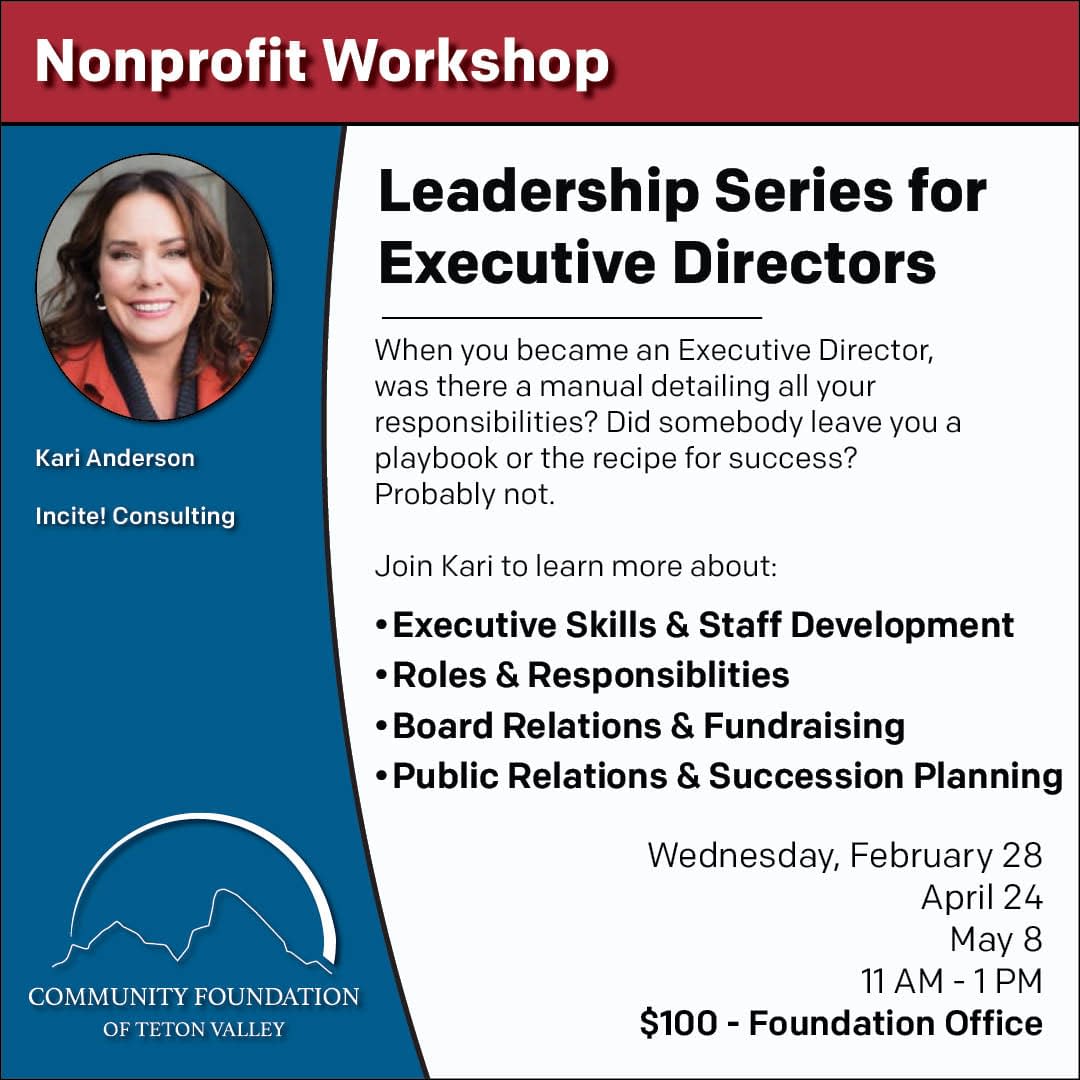 When you became an Executive Director, was there a manual detailing all your responsibilities? Did somebody leave you a playbook or the recipe for success? Probably not.
What's the solution? Spend some time with Kari Anderson, Principal at Incite! Consulting. As a former executive director, she has tips and tools that will help you thrive as a leader. In three two-hour sessions, you'll dive into roles and responsibilities that executive directors juggle to ensure organizational success. Importantly, you will leave each session with a framework to organize and prioritize where and how to spend your time!

Wednesday, February 28, 2024: 11 AM – 1 PM
Session One: Executive Skills & Staff Development
How to structure your day in order to maximize your time
What types of meetings need to be on your calendar each week
Why it's important to say no, and, how to say it
The best way to onboard staff and/or volunteers
What does "coaching up or coaching out" really mean?
Handling staff burnout

Wednesday, April 24, 2024: 11 AM – 1 PM
Session Two: Board Relations & Fundraising
Building an outstanding board of directors
Why is a board development committee critical to your success?
How to deal with an over-zealous board
What to do when you hate to fundraise
Setting your development director/board fundraising committee up for success
Maximizing your signature event revenue

Wednesday, May 8, 2024: 11 AM – 1 PM
Session Three: Public Relations & Succession Planning
The importance of storytelling
How to speak in public
Friday afternoon thank-you's
Effective succession planning
Leadership Structure possibilities
Promoting from within vs. hiring from the outside


Expectation that workshop participants will attend all three sessions. Additional consultation hours will be provided after completion. Secure your spot by February 1, 2024.
$100.00
Executive Director Leadership Skills Series
Kari Anderson
(844) 946-2483
kari@inciteconsultinggroup.com