Creativity, Consistency, & Support
Consider making a designated gift to the Community Foundation of Teton Valley during the 13th Annual Tin Cup Challenge – Giving ends on Friday, July 24th at 5 PM.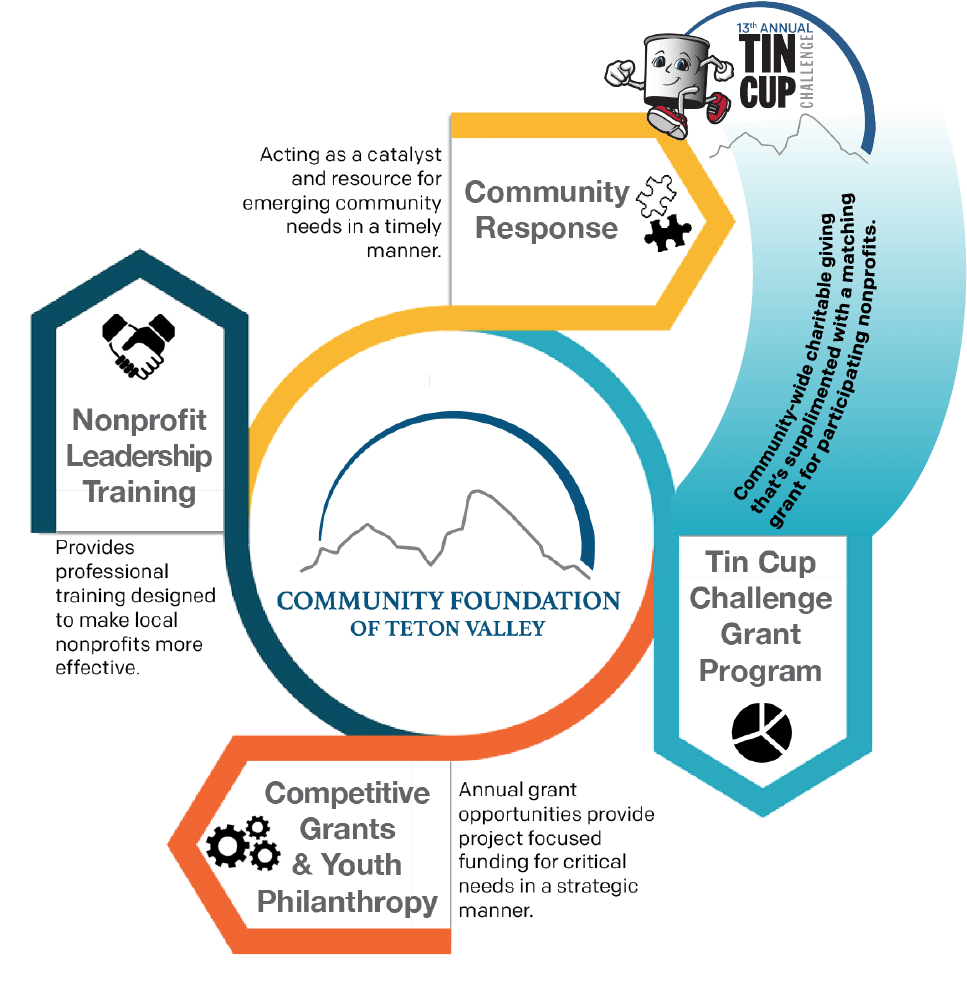 Tin Cup Challenge Grant Program
This year more than ever, local nonprofits are relying on the efforts of Tin Cup fundraising. Numerous friend and fundraisers have been canceled or postponed in light of community safety during the pandemic. This year, with nonprofits reimagining programming, funding alternatives, and budgets, there's been additional pressure on this annual fundraising window. Tin Cup provides a singular opportunity to give to numerous nonprofits with one simple transaction or to give to the Challenger Fund in support of the whole nonprofit community.
Through both of these methods, the Community Foundation of Teton Valley has helped focus and develop giving in the community during our annual 8-week Giving Period beginning on June 1st. This consistent fundraiser has helped streamline giving for 48 nonprofits, alleviating the financial need for each organization to host multiple fundraisers per year. The Community Foundation's broad-range marketing strategy capitalizes on collaboration with local nonprofits and targets both valley residents and visitors in order to bring light to the nonprofit landscape that truly makes Teton Valley shine.

In that light, wheels were already in motion for a traditional 13th Annual Tin Cup Challenge when the pandemic struck Teton Valley in March. As the foundation of local fundraising, we understood that our cornerstone program, the Tin Cup Challenge must go on! Our dedicated board members recommitted to fundraising for the Challenger Fund; the Finance Committee, with our Executive Director, reimagined our budget to direct more money towards supporting nonprofits as possible during the Tin Cup Challenge; staff conceptualized new ways to recognize nonprofits without having booths at our traditional Event Day.

Our team effort has been rewarded with many silver linings. Forced to think outside traditional means, we've been excited to bring new, lasting amenities to the Tin Cup Challenge as well as maintain traditions when possible:
Tin Cup 2020
___________________________________________
Brochures —
Tinny loves jumping out of local mailboxes on June 1st! This year brochures and return envelopes went to 5,774 households. Additionally, phenomenal volunteers distributed them to businesses across Teton Valley, ensuring they're easy to find for both residents and visitors alike.
___________________________________________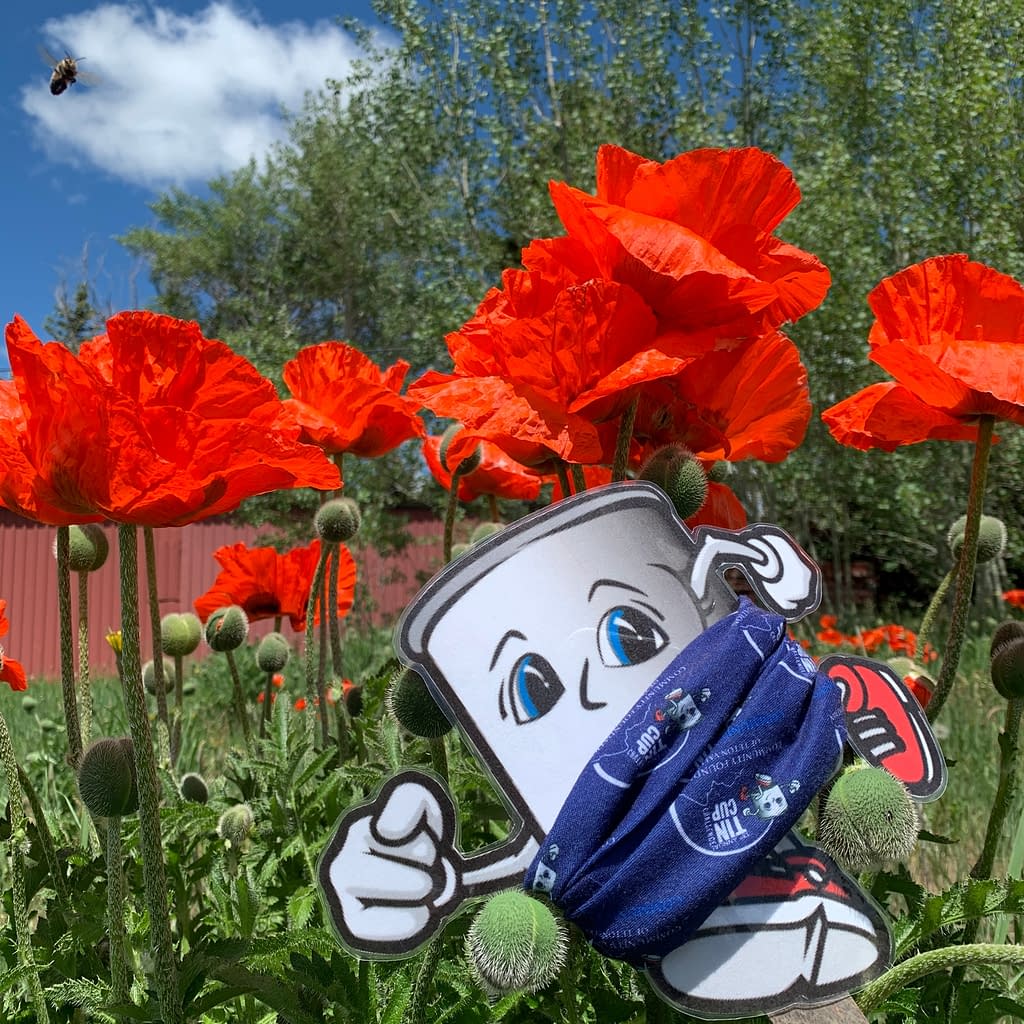 Tin Cup Fandana —
In an early, strategic move to ensure there would be more funding available for nonprofits during the pandemic, the Community Foundation decided to replace our traditional, beloved Tin Cup T-shirts with a snazzy, timely, and versatile neck gator that doubles as a mask.
___________________________________________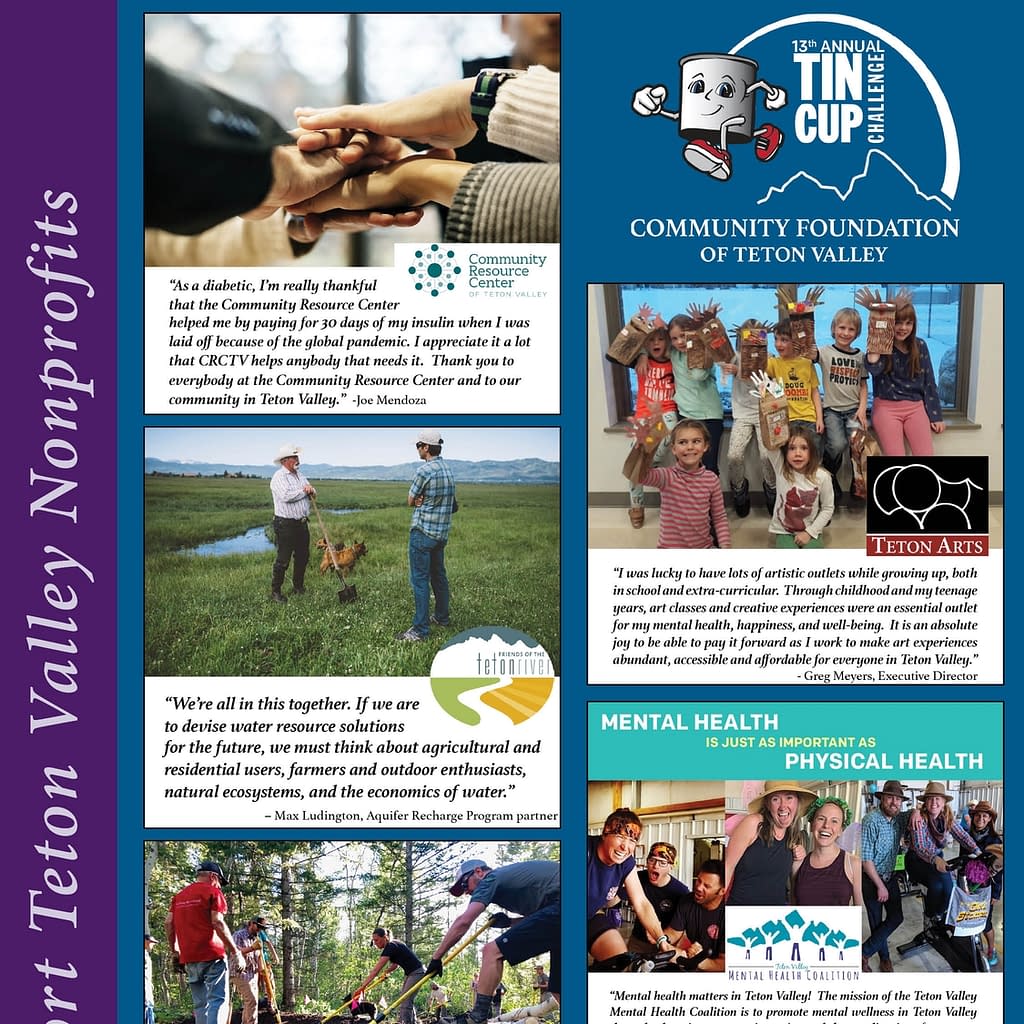 Nonprofit Advertising —
In an effort to engage the community and provide more recognition for our hardworking nonprofits, the Community Foundation took out 5 full-page ads in the Teton Valley News to highlight each of them with a photo and quote. Additionally, these ads were shared with the nonprofits to be used in their own advertising.
___________________________________________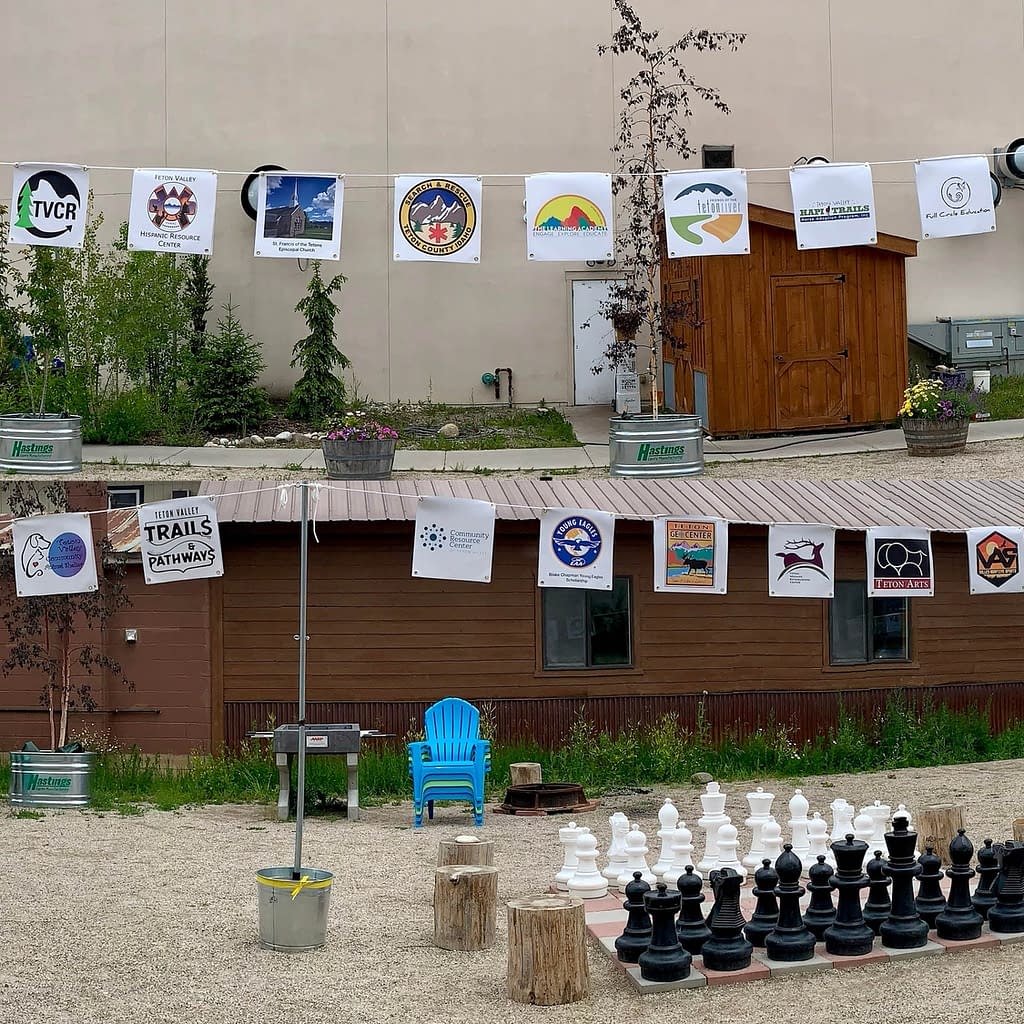 Nonprofit Garland —
The Nonprofit Garland in Mugler Plaza represents all 48 participating nonprofits. This display provides a visual illustration of the unique work each nonprofit puts towards the well-being of Teton Valley and its community members. When you see this garland, keep in mind the teamwork, collaboration, volunteerism, and support that lies behind each nonprofit logo.
___________________________________________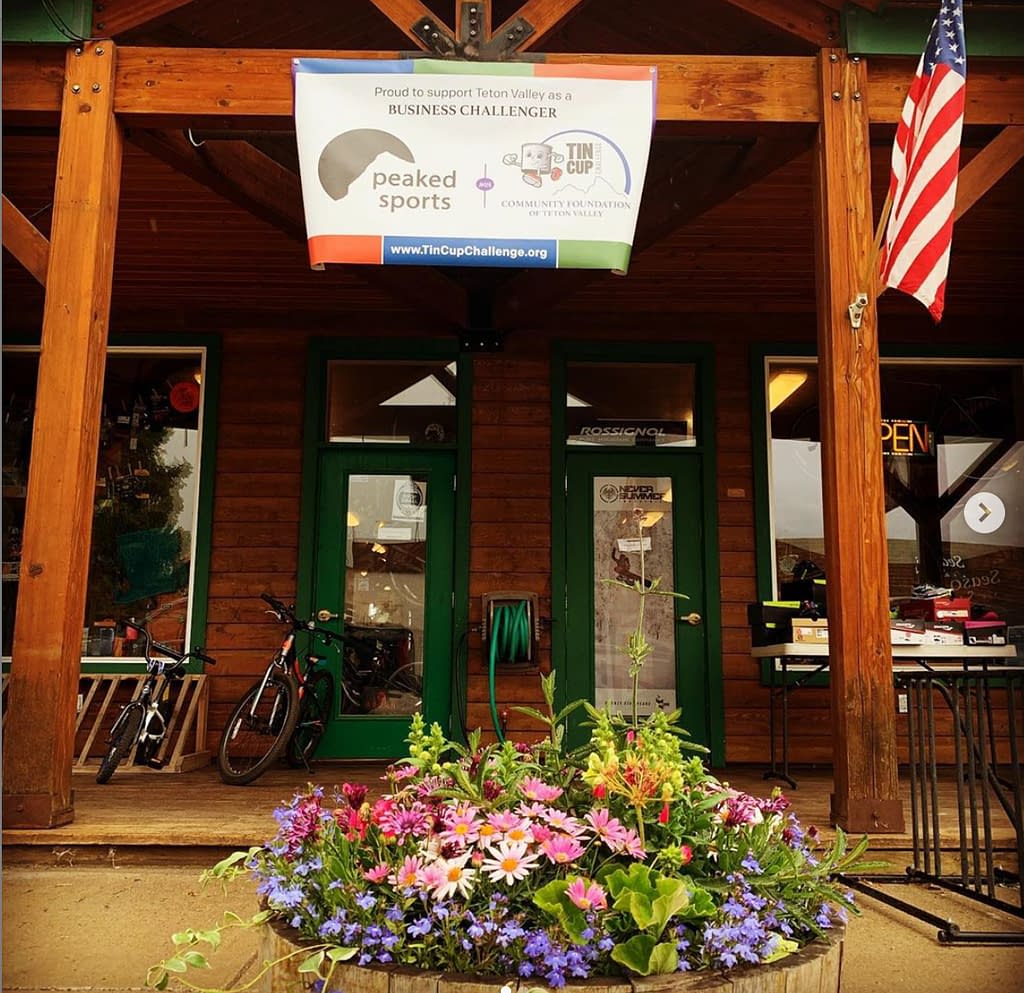 Banners —
Event Day banners and, new this year, Business Challenger Banners helped spread the word and remind the community that the Tin Cup Challenge is on! Business Challengers stepped up to the plate, in a difficult year, to ensure the stability of our nonprofit community and the necessary services they provide. We hope you'll recognize their generosity by utilizing their services when you can.
___________________________________________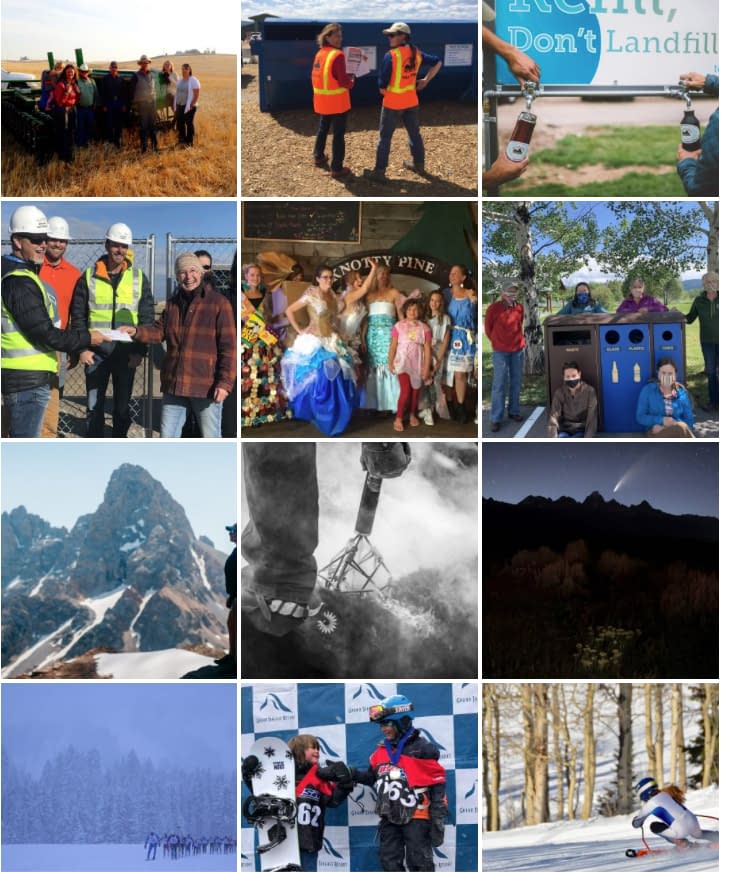 Tin Cup Spirit Photo Contest —
In an effort to show what nonprofits do for our community year-round, the Community Foundation initiated an inaugural photo contest to capture and illustrate nonprofit impact in our community. We were dazzled with 75 photos representing every sector of the community and over 250 votes! We look forward to adding this element to our traditional Tin Cup Challenge!
___________________________________________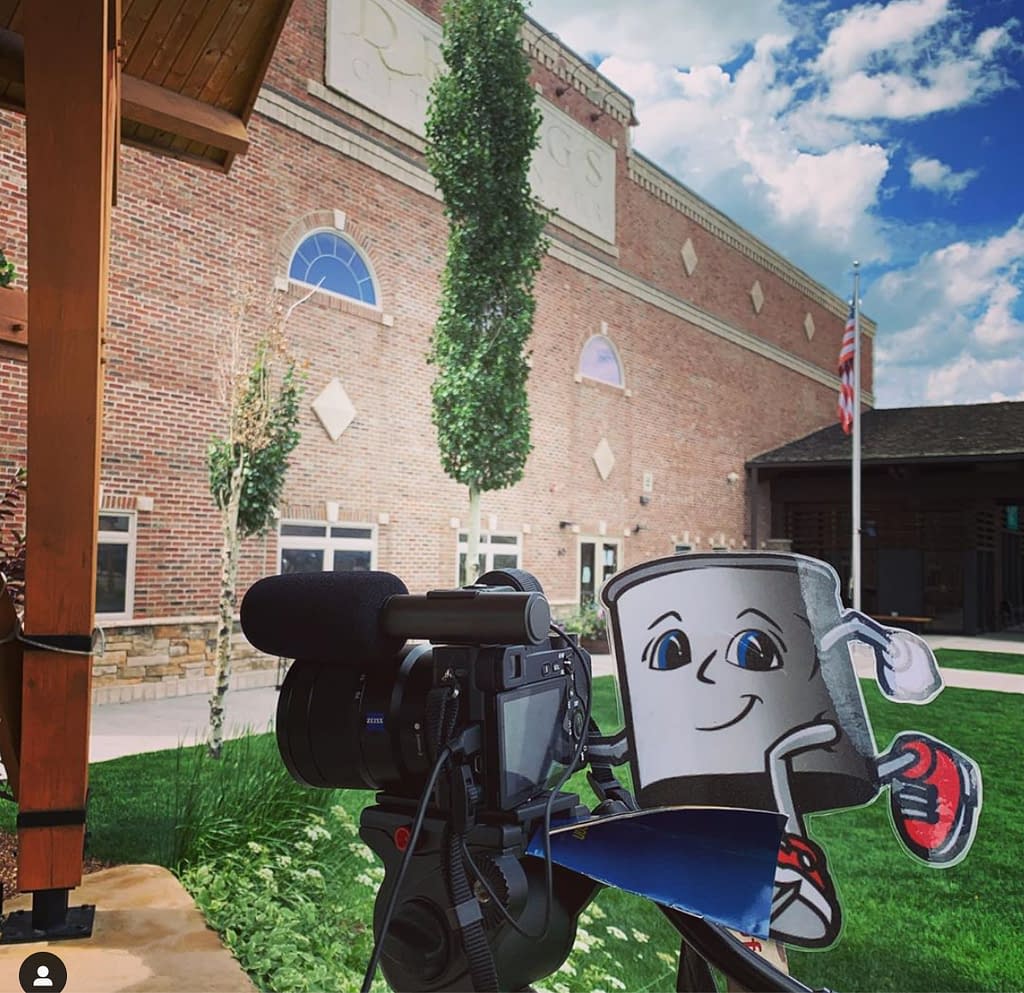 Virtual Event Day —
While we missed our traditional Event Day with runners and nonprofit booths, we were also excited at the opportunity to share customary parts of the morning virtually on both Facebook & Instagram. With scheduled events on the hour from 9 AM – Noon, we were happy to host an Event Day, as tradition demands, on the 3rd Saturday in July, and share it!
___________________________________________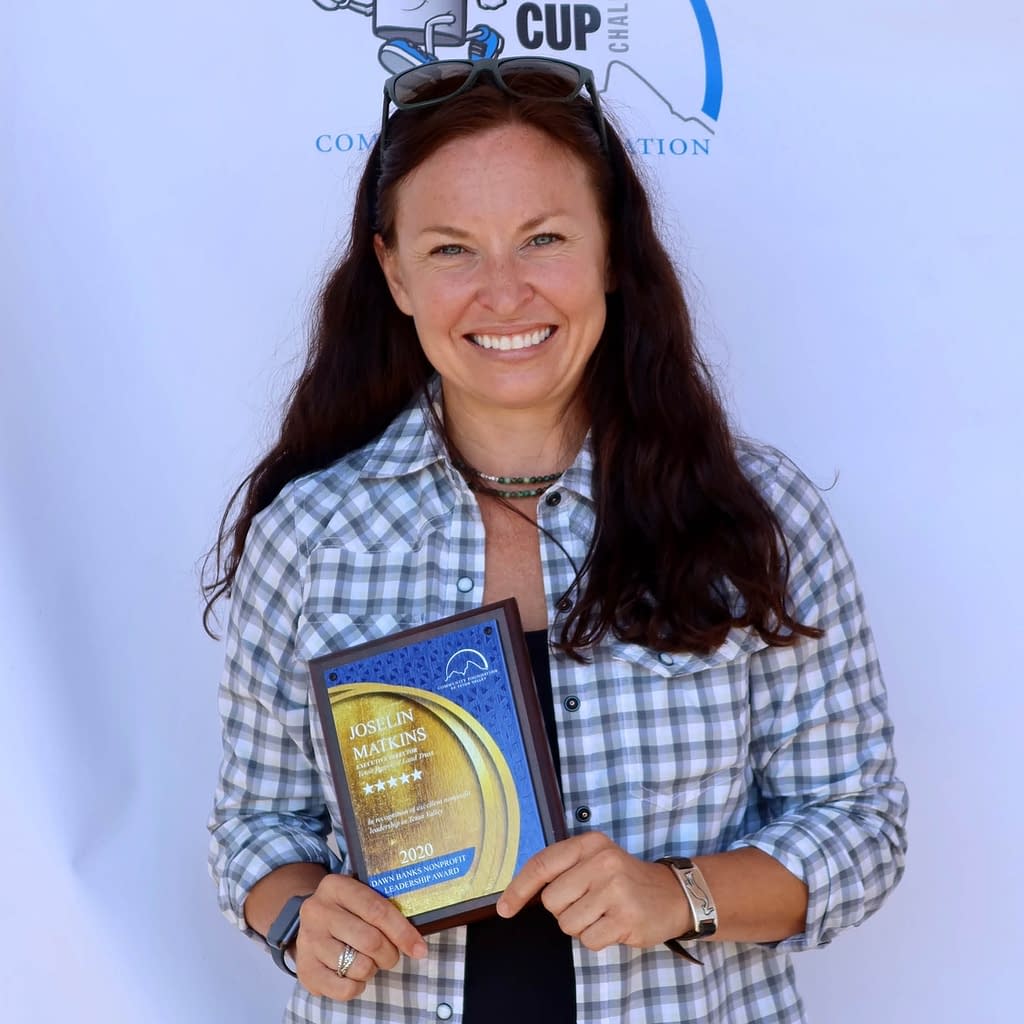 Dawn Banks Nonprofit Leadership Award — We were excited to maintain this tradition, now in its 4th year, and name Joselin Matkins, Executive Director of the Teton Regional Land Trust as this year's awardee. Along with a plaque, this award is accompanied by a $1,000 grant from the Community Foundation of Teton Valley for her unwavering leadership, conservation, and collaboration.
___________________________________________
Tin Cup Spirit Photo Contest Winners:
Photo contest winners were allotted Nonprofit Bucks to award to their nonprofit of choice.
1st Place – Carol Lichti: Seniors West of the Tetons
2nd Place – Pat Butts: Rotary Club of Teton Valley
3rd Place – Diane Temple: ABC – Above & Beyond the Classroom
___________________________________________
Thank you to everyone who participated by tuning-in on Event Day, submitting a photo, voting, and of course, DONATING!
___________________________________________
We're excited to bring the Tin Cup Challenge Program to our community. At the Community Foundation, we understand that this annual event has become a keystone for nonprofit fundraising locally. This year, more than ever, nonprofits in our community are counting on community members for support and hoping we're all up for the challenge!
At the Community Foundation of Teton Valley, we're always up for the challenge. We are a lasting foundation that nonprofits and our community can count on because we understand that community counts.
Please consider re-enforcing this foundation with a designated gift to the Community Foundation of Teton Valley during this year's Tin Cup Challenge – ending this Friday, July 24th at 5 PM: