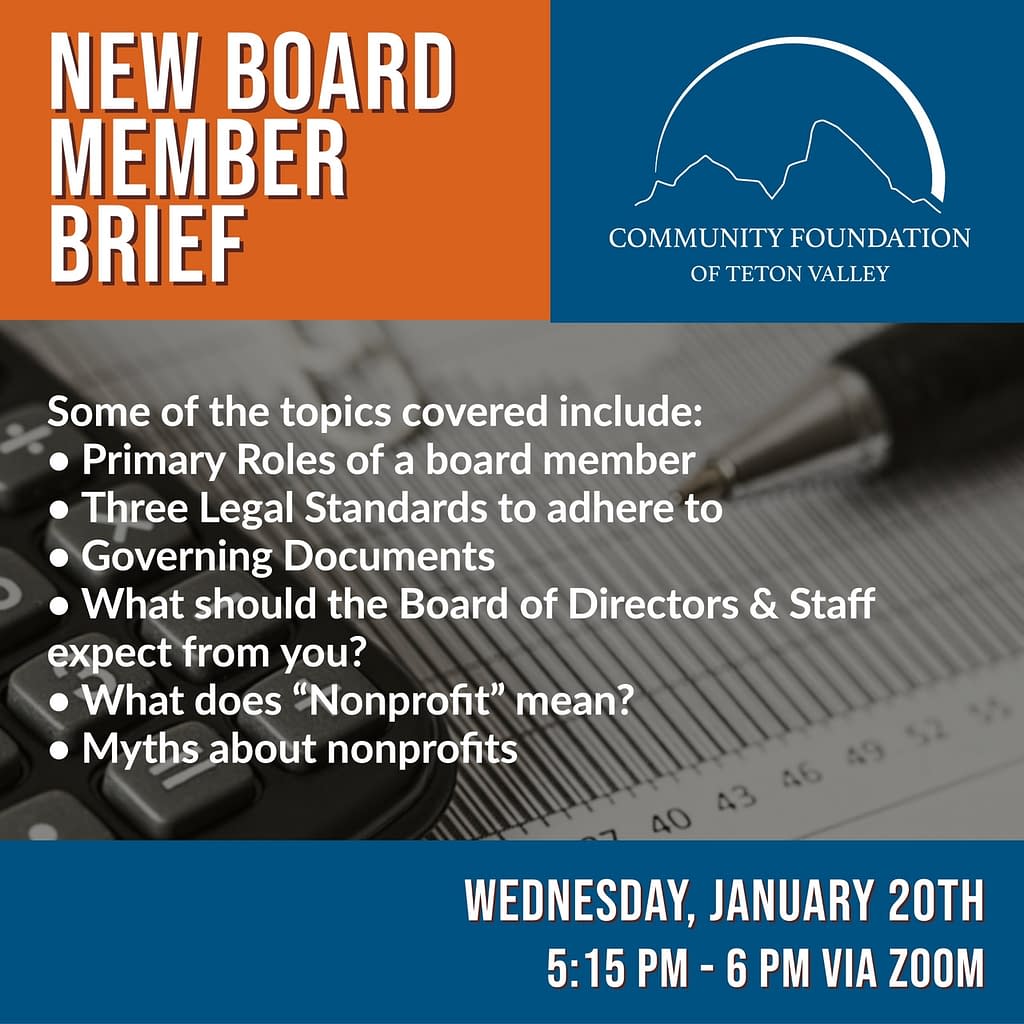 The Community Foundation of Teton Valley is excited to announce a new offering, the New Board Member Brief, for incoming board members of local nonprofits. This free, quarterly offering will back-up organizational board orientations with specific information regarding a board member's legal role and the relationship of board members to staff, the rest of the board, and volunteers.
New board members have great passion and enthusiasm for the mission of the organization they join. As a new board member, they have likely received an orientation from their organization on how the nonprofit raises funds, its programing, and what responsibilities the new board member is expected to serve. This is valuable information and sets the new board member up for success and to be a great asset to their organization.
According to Executive Director and presenter, Tim Adams, "while they are excited to work and help in any way they can, new board members can jumpstart their service by understanding established roles and responsibilities." This half-hour presentation orients new board members on the basic principles of what it means to serve on a nonprofit board. The presentation will also help create a peer network of board members to help foster support.
Some of the topics covered include:
Primary Roles of a nonprofit board member
Three Legal Standards which to adhere
Governing Documents
What should the Board of Directors and Staff expect from you?
What does "Nonprofit" mean
Myths about nonprofits
This quarterly workshop is free of charge and includes an additional 15 minutes of questions and answers. The first session will be held via Zoom on Wednesday, January 20th from 5:15 PM – 6 PM.
The Community Foundation of Teton Valley is always thinking of ways to better support the important work of local nonprofits. In response to the ever-changing nonprofit landscape during the pandemic, quarterly Talks with Tim recently progressed to a monthly resource. During these networking sessions, Executive directors are invited to meet with the Community Foundation's Executive Director, Tim Adams, via Zoom.

This free, one-hour talk features an opportunity for executive directors to connect, question, share, collaborate, support, and celebrate with each other. Executive directors discuss relevant topics of the day with their peers in today's fast-changing environment on the second Tuesday of every month.
Please RSVP for the above offerings.