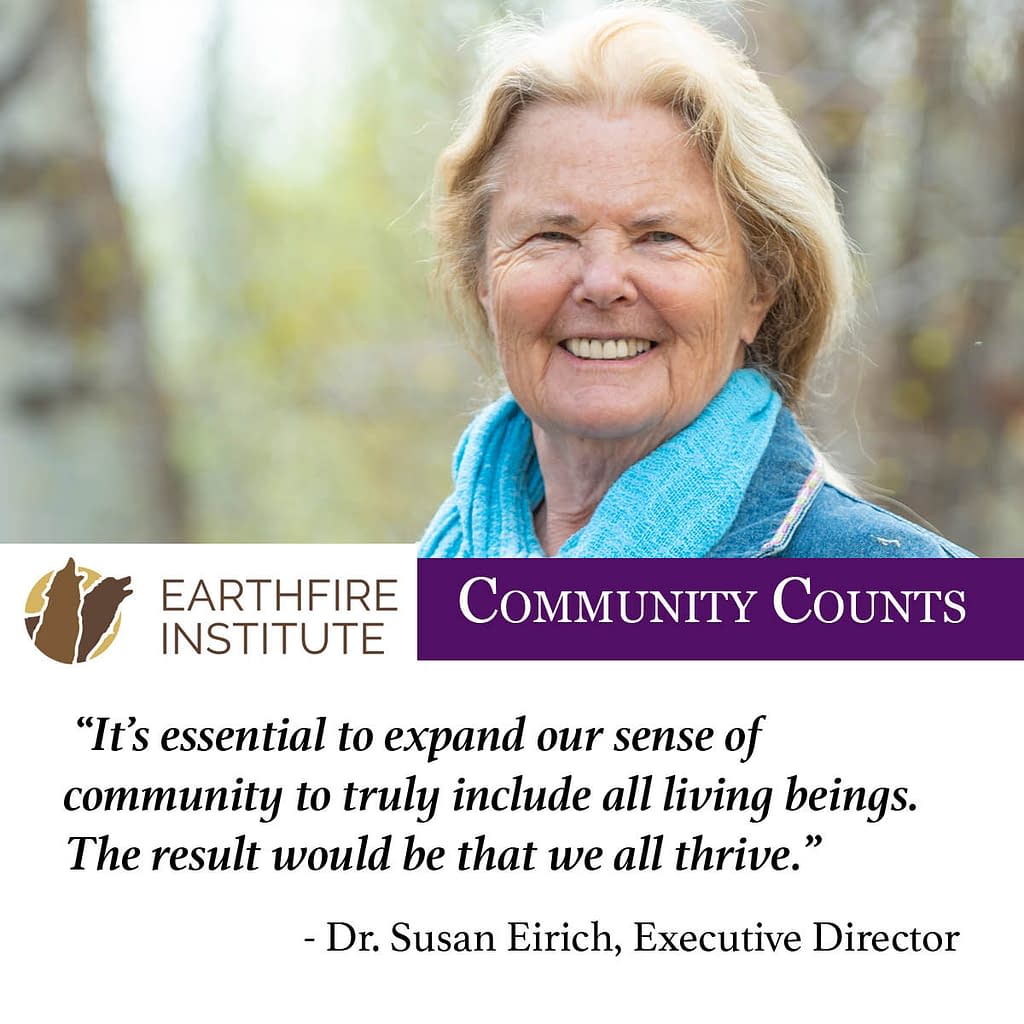 Earthfire is at the forefront of the movement to bring people, animals and nature together to inspire joy and wonder, reawaken our deep connections to all living beings, moving us to save habitat for wildlife.
Earthfire has created the Reconnection Ecology model which gives people the opportunity to form a deep connection with individual rescued animals and their unique stories, leading to our own reconnection with all that is wild—including ourselves.
While the pandemic has required millions of us to retreat from our usual social and professional activities, there's been a noticeable improvement in the quality of our environment and a healthy increase in outdoor activities. We're walking, bike-riding, bird-watching, and gardening. Less human traffic has resulted in more space for animals to roam. These natural changes have been observed by the media and individuals with delight and surprise. Now is the time for people to make decisions that will continue to nurture a better world-wide habitat. By coming together, we can effect change and take real responsibility for our actions and consequences.
In 1997, Jean Simpson drove across a makeshift bridge over a snow-fed creek to homestead with Susan Eirich on what is now Earthfire Institute. Over 20 years later, virtually all of the structures onsite have been built by hand by Jean and Susan.
Materials from landfills and local construction projects were harvested for reuse in our Institute's infrastructure—including plumbing, electrical, and irrigation—all while providing the best care possible for resident animals.
We're poised for transition.
After 2 years of research, preparation, and planning, we're launching a three-year capital campaign. Phase 1, Wildlife Sanctuary Development, addresses the urgently-needed investment in Earthfire's facilities and it all begins with the living land. Our permaculture design lays the foundation for building new animal living spaces, walking paths, and infrastructure improvements. This includes improvements to our water retention, efficient workflow for animal care, enhanced visitor access, and measurable natural resource management. Every effort has been made to design in tune with natural ecosystems, using our knowledge of the winds, sun, rains, soil, and rolling of the seasons.
This plan is shovel-ready and supports the foundation for our 20th Anniversary Capital Campaign, Saving Wildlife, Saving Ourselves. For more information, please call us at 208-456-0926. Learn more at www.earthfireinstitute.org