(Driggs, ID – January 21, 2013):  The Sixth Annual Tin Cup Challenge, to be held Saturday, July 20, 2013, will again feature a nine-week giving period (which starts in late May) and a community celebration at Driggs City Park.  The half-day event will include competitive 5K and 10K races, a 5K Fun Run/Walk, free breakfast, diaper derby, and interactive booths, contests, and other family activities provided by Teton Valley's nonprofits.
At its January meeting, the board of the Community Foundation of Teton Valley voted to remove the long-distance competitive races (marathon, marathon relay, and half-marathon).  In so doing, the board reaffirmed its commitment to the Teton Valley community by focusing on the fun and family aspects of the philanthropic event.
"We're enthusiastic that we'll be able to explore additional ways to make sure that everyone is entertained and engaged," said Sarah Heisey, chair of the CFTV committee that oversees Tin Cup.  This year, some new elements could be added that haven't been offered before, she said, such as a costume contest and a kids-only race.
More than 1,500 people were involved in some capacity with the Tin Cup Challenge in 2012.  The organization hopes to continue expanding participation in the competitive 10K and 5K runs as well as the Fun Run/Walk.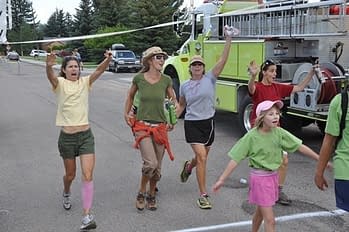 With the decision, Dick Weinbrandt elected to step down as race director and CFTV board member.  "Dick played a critical role in organizing the racing component of the day's events since the Tin Cup's inception.  More importantly, as a founding board member, Dick was instrumental in getting this organization on its feet," said Tim Watters, CFTV board chair.  "On behalf of the Community Foundation, we would like to thank him for his years of valuable service."
About the Community Foundation of Teton Valley
Founded in 2007, the Community Foundation of Teton Valley seeks to improve the quality of life in Teton Valley by bringing people together through philanthropic leadership.  The Community Foundation seeks to foster organizational excellence among local nonprofits through grants and programs, serves as a resource for local donors in establishing charitable funds, and hosts the Tin Cup Challenge.  In just five years, this annual fundraiser has raised more than $4.8 million for Teton Valley nonprofits. For more information, please visit www.cftetonvalley.org or call the CFTV office at (208) 354-0230.