The 11thAnnual Tin Cup Challenge Event Day was a terrific success!  The Community Foundation of Teton Valley provided Teton Valley with an extraordinary event promoting philanthropy in our community while celebrating the ingenuity of our local nonprofits' efforts to elevate life in Teton Valley. Our gratitude goes out to the many donors, volunteers, and nonprofits that make this event so successful annually.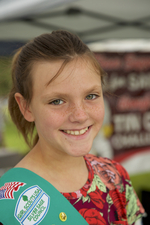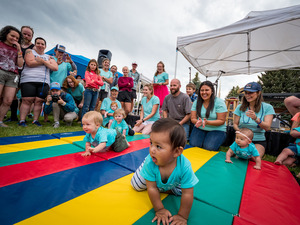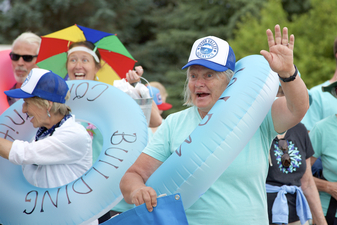 The community was pleased to return to the Driggs City Park after a three-year hiatus. Nonprofits took advantage of the additional space by offering some truly unique booth activities that captured their missions in a big way. To name a few, the Teton Valley Education Foundation used a working school bus as a gallery for their ArtReach Program, the Teton Valley Foundation brought the unique game of soap hockey to Tin Cup goers, the Teton Valley Balloon Rally partially inflated a balloon for the public to walk inside and participants of the Mountain Bike the Teton's booth made their own smoothies with bicycle power.
Six hundred racers enjoyed the all-new course that utilized a pathway, brought to us by Teton Valley Trails and Pathways, for more than half the route. The latter half of the route wound its way back to the City Park through neighborhoods streets. Folks came out of their houses to cheer runners as they passed and a light rain shower cooled racers as they crossed the finish line.
The Awards Ceremony led with the Dawn Banks Nonprofit Leadership Award. This award recognizes a local nonprofit leader who exemplifies excellence in nonprofit practices and comes with a $1,000 grant. This year's recipient was Amy Verbeten, of Friends of the Teton River, for her dedication, reputation, positive attitude and collaboration with a diverse set of stakeholders, agencies and other nonprofits. The Tin Cup Spirit Award and $1,000 grant for nonprofit presence on the race course went to Teton Arts, with an honorable mention to Teton Valley Aquatics. Race awards followed with awards purchased from local businesses.
Our efforts to make the Tin Cup Event Day a greener, more sustainable celebration were met with praise from the community. This year, our breakfast was all new, comprised of primarily locally sourced, pre-packaged dry goods and fresh fruit. Teton Valley Community Recycling provided a Hydration Station for water bottle refills and lead the Green Team on Event Day, while Full Circle Education was able to utilize the plates, napkins and fruit waste in a Composting Workshop that followed Tin Cup.
Despite the occasional passing rain shower, the generosity of our community brought light to hundreds of faces. Thank you to the many champions of Teton Valley's hard-working nonprofits. Tin Cup Event Day illustrates generosity in action – across all fronts. We greatly appreciate your support.