Free Family-Friendly Community Art Workshops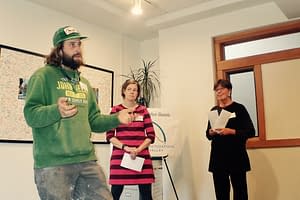 Teton Arts was the successful recipient of $1,000 in our 2017 Fall Competitive Grants process. This award plans to sponsor two free, Saturday family art workshops per month throughout the year.
These workshops will be designed to engage parents and children together in a meaningful art experience. In addition to reaching a broader community base for the specific workshop experience, Teton Arts hopes these events generate further interest in ongoing art programs and available scholarships.
Grant funds will primarily be used to cover teacher's compensation for the proposed workshops. Less than 5% of the grant will cover a portion of advertising, outreach, and education in order to build community awareness about the programs. Art-making materials, such as paper, paint, clay, etc., as well as the majority of marketing and administration costs, will be provided by Teton Arts.
By scheduling regular, free, family-friendly art workshops, Teton Arts hopes to reach and engage a large number of community members and make art accessible and available for all Teton Valley residents. Stay tuned and take advantage of these great classes coming your way!